I work with love to capture the spirit, essence of your loved one. And their spirit works with me to create a painting that is right for you.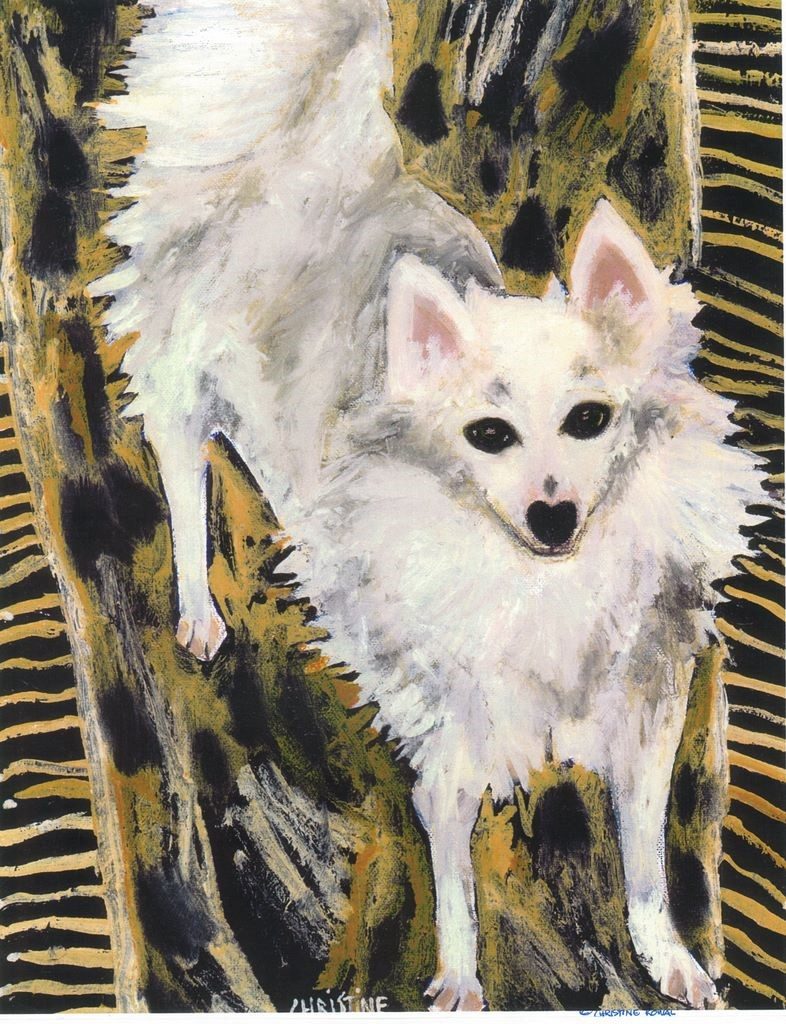 Your gift to the world is what you carry inside of you.
When I was studying Art In Italy in Venice I was waking up. Art is the most important thing in the world in Italy. God was showing me that he meant for me to share my gift with the world.
At the time I was in Venice you could go and sit in the Academia on a wooden bench in front of these beautiful very old priceless works of art and have lunch. I asked God to please show me how to make Art a part of everyday life in my world.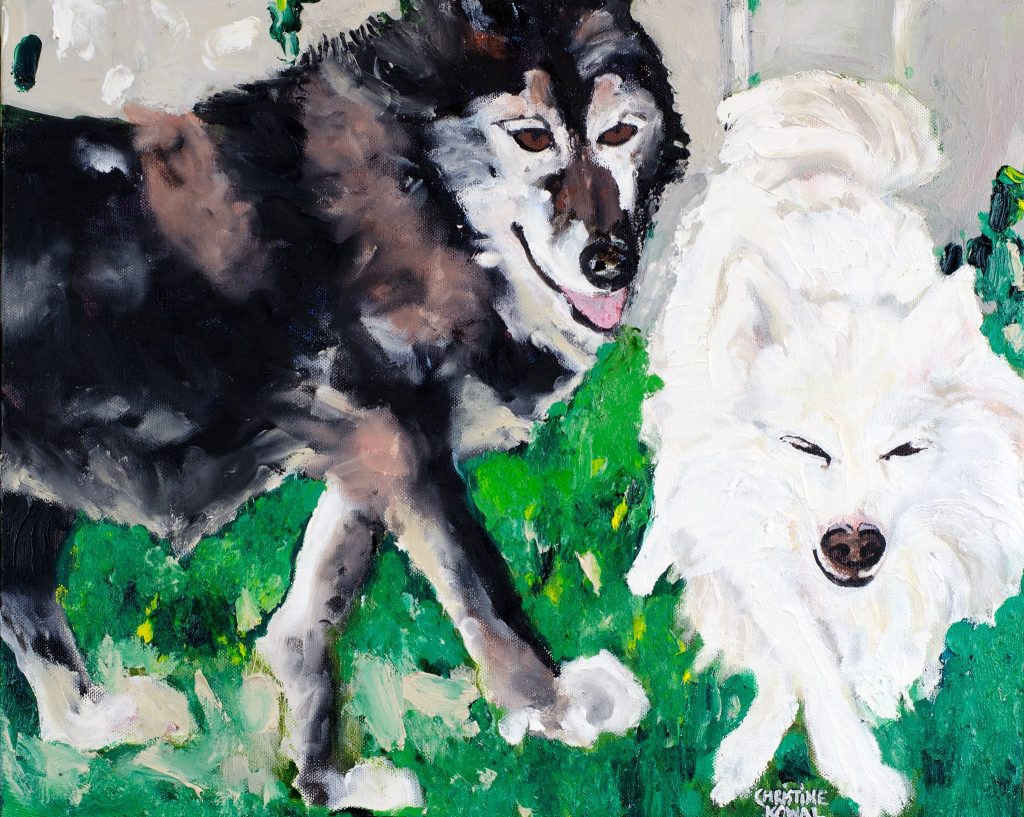 I tell you this because an original painting takes a lot love and time to create. But I also think it's important that we all be part of the love of an original piece of Artwork.
TESTEMONIALS
I was struck and moved by how well Christine captured the essence of my cats in her portrait of my two little loved ones. They were almost live, it was so well done. But it's not surprising when you find out what's behind her work. Talent, care and heart.
Christine took the time to find out their names and ask questions about their personality to get a sense of who they were. From seeing the cheer she has brought to her street in her paintings. On the fence across from the homes, it is also obvious that next to her talent is her heart and love of animals that goes into her work.
There couldn't have been more love put into that painting than if I had painted it myself.
This painting is something that is very special to me that I will treasure always, and that goes well beyond what any photograph could do to remember them by.
Second only to the piano I received as a girl. This is the best gift I have every received.
Sincerely
Sofie Kaegi
Amanda's testemonial
"I love the painting of sheep by Christine that I received as a baby shower gift. You can feel the warmth of the sheep looking down from the painting and I know my baby will love having them watch over him. It is a beautiful piece and brings a charming spirit to the nursery."
"I have two pet-portraits by Christine and they mean so much to me, especially to have the loving faces of my animals as a continued presence in my home, even though they have passed away. The portrait of my lovebird, Tancy, looks like she is ready to jump out of the frame and back onto my arm. No photo ever captured her vivacious personality the way Christine's portrait has and I love seeing her everyday. The pet-portraits are wonderful reminders of the love our animals bring into our lives."
CRAVEN ROADFENCE PROJECT
Many years ago I created The Craven rd. Fence Gallery Project with the city of Toronto, it was part of the Beautification project for the city.
The mission of 'The Craven Road Fence Gallery' was to create love where there is fear. Art has the ability to give people hope and fill their hearts with joy. The Animals teach us how to love and respect one and other.
As people walked down the street and looked at the animal paintings on the fence. They could feel the love from the Animals. They're lives felt a little more peaceful. The kids loved the Animals. Their parents would use Craven Rd. to walk their kids back and forth to school so that they could look at the animals. Sometimes they'd stop and have a chat with me if I was outside.
Craven Rd. Gallery became one of the streets used by City Hall for their street tour.
Although I no longer live in Toronto very once in a while someone sends me an update on Facebook on The Craven Rd. Fence Gallery.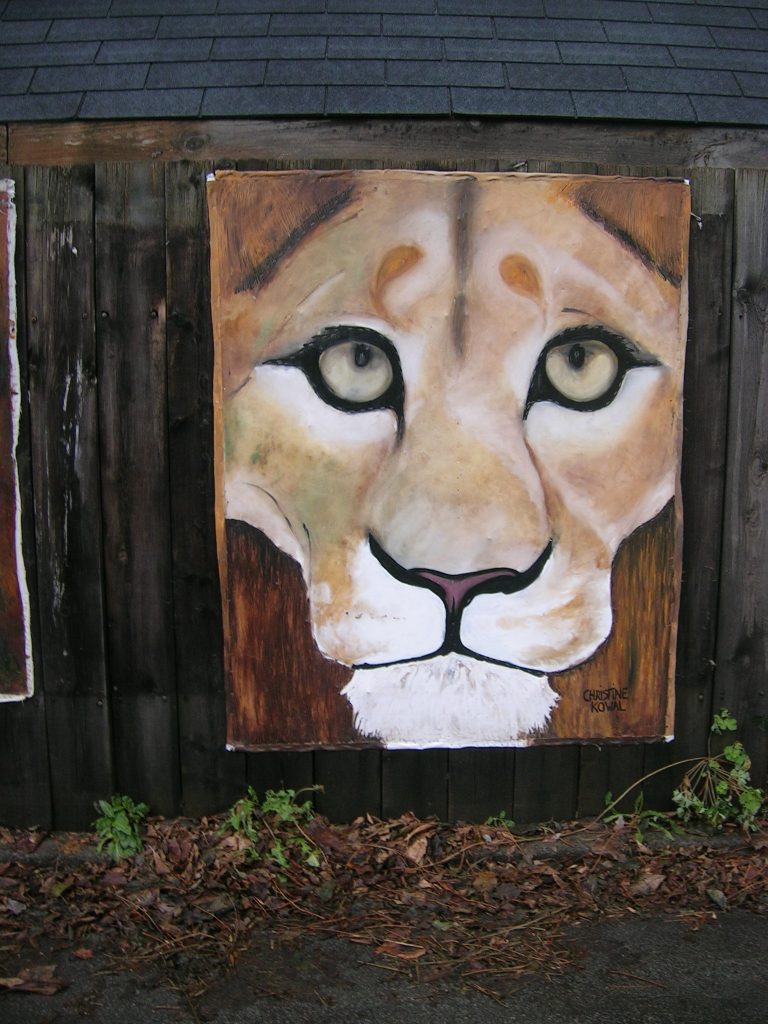 Dear Ms. Kowal,
Thank you so much for the lovely paintings on exhibition along Craven. Over the last couple of years they have given me a great deal of pleasure. I walk and cycle up Craven fairly regularly and never fail to stop and savor.
You probably think the pictures are a little worn, but I like 'em like that. Not that I'd discourage you from putting up more new ones.
They say if you get one letter from your public there are a thousand who haven't bothered to write. Perhaps that's an exaggeration here because Craven is a quiet street, "caviar to the general," but I'm sure I'm not the only one whose heart has been lifted. Thank you again.
Peter McLaughlin
COMMISSION A POTRAIT
I work in acrylic paint and mixed media on paper or canvas, I let your animal family member decide what is best for your portrait, unless you have a preference. All artwork on paper will be framed.
8″ x 10″ $999
9″ x 12″ $1675
12″ x 16″ $1899
16″ x 20″ $ 1999
20″ x 24″ $2255
24″ x 30″ $3500
Prices do not include tax. For orders over $2000 tax not included, delivery in Canada and the United States is free.
Special orders are welcome.
From you I need you to email me:
Three or four of your favourite photo's if possible.
Let me know if there is an order to your favorites.
And if you have one photo that you want for the painting just let me now.
Email: christinekowalttw@gmail.com
And if possible your favorite story or the reason you would like a Animal Family Portrait.
If this is a gift and you only have one photo. That is all good.
If you are not satisfied when you receive your painting a refund will be given. Thirty percent will be kept for supplies used to create your portrait. Go to Terms and Agreement
How to Commission a Portrait
A Animal Family Portrait is all about love and I work with that love to capture the spirit of your Animal Family member or the Animal that you choose. Your Animal Family members are always quite clear about what their parent/Family member wants. And what they want for their Family member.
I work from photographs and if possible please send digitally via email. You can also send via post. If the photo's are sent via post they will be returned to you with the completed portrait.
If you do not have photos it is easy to take photo's now with all of our devices, and when in doubt please send extra photos and I will pick. Also please let me know what your favorite photo/photo's are if possible.
When you are picking the photo's to send me please try to include photo's that show full on face, a good eye shot, full body, a favorite pose, good coloring (just things to think about)
Photo's sent digitally, send to: christinekowalttw@gmail.com
Photo's sent via post, send to: Christine Kowal 5022 Highway 9, RR#4, Kincardine Ontario, N2Z 2X5
Once you have your photos pick a size that suits you.
Contact us
Terms and Agreement
If you are not happy with your painting. Contact us within the first week of receiving your artwork and you will receive a seventy percent refund. Thirty percent that paid for the supplies to create your painting will not be refunded. Then send the package back to us with a tracking number. You are responsible for the cost of shipping the package back to us. Once we have received undamaged package we will refund your money.
Once the package is received by us, the money will be returned to your account.
Should the package arrive to you and the contents of the package have somehow been damaged in travel we will again require you to contact us by email within a week and let us know and send back the damaged content with a tracking number. When we receive the damaged contents of the package and to receive full money back guarantee full content, everything that was sent must be returned, then we will fully refund your account for the artwork.